Freelancer.com Review 2023: Details, Pricing & More
Are you ready to advance your freelance career and take advantage of the numerous options the sector has to offer? You need to look no further than Freelancer.com, the top platform for connecting brilliant people with clients from all around the world.
Overview
The freelancing economy has emerged as a game-changer in today's fast-paced and dynamic work environment, changing conventional employment structures. The freelancing sector offers the perfect platform for professionals to demonstrate their abilities, work on a variety of projects, and experience the freedom of self-employment as businesses demand flexible and specialized expertise more and more.
What is Freelancer.com?
Freelancer.com is an evergreen online platform created to bridge the gap between freelancers and clients seeking their expertise. Freelancers and clients may connect, collaborate, and accomplish a wide variety of projects across various industries thanks to Freelancer.com, which serves as a virtual marketplace. It serves as a powerful stimulant for the growth and success of independent contractors anywhere in the world.
Key Features and Benefits of the Platform:
Vast Pool of Talent:
Freelancer.com boasts a thriving community of highly skilled freelancers, covering an extensive range of fields and specialties. You'll find talented individuals prepared to complete your project, from writing and marketing to web development and graphic design.
Seamless Project Management:
The platform offers intuitive project management tools that facilitate effective communication and collaboration between freelancers and clients. Features like real-time messaging, file sharing, and milestone tracking ensure projects progress smoothly, fostering transparency and efficiency.
Secure Escrow System:
Freelancer.com's escrow system provides peace of mind for both freelancers and clients. Clients can fund project milestones, assuring freelancers of payment upon successful completion, while freelancers can work confidently, knowing their efforts will be duly rewarded.
Global Reach:
With a vast international user base, Freelancer.com opens doors to a global network of opportunities. Freelancers can work with clients from various countries, allowing them to expand their portfolios and tap into diverse markets.
Broad Range of Freelance Services Offered:
Freelancer.com encompasses an impressive array of freelance services, catering to virtually every professional niche imaginable. Whether you need a website designed, content written, software developed, or marketing strategies devised, Freelancer.com provides access to a broad range of talent across industries.
From creative arts to business consulting, technology to marketing, and everything in between, Freelancer.com accommodates a vast spectrum of freelance services, ensuring that clients can find experts who precisely match their project requirements.
Getting Started on Freelancer.com
Are you all set to start your journey as a freelancer? Look no further than Freelancer.com, the leading platform that connects talented individuals with exciting projects. This detailed guide will take you step-by-step through the necessary procedures for signing up for an account on Freelancer.com, exhibiting your abilities, and setting up convenient payment options. Get ready to unlock new opportunities and unleash your freelance potential!
A. Creating an Account
Sign up for a Freelancer.com account and explore a vibrant community of freelancers and clients worldwide from the comfort of your home.
Navigate to the Freelancer.com homepage and then click on the "Sign Up" button.
Fill in all your personal details, including your name, email address, and a very strong password.
Rather than that, you can sign up using your Google or Facebook account for a quicker registration process.
Verify your email address and activate your account and get access to the platform's features.
B. Building a Freelancer Profile
Build an attention-grabbing freelancer profile that showcases your unique set of skills and expertise.
Choose a professional profile picture that showcases your personality or brand identity.
Write a compelling bio that shows your previous experience, skills, and what makes you stand out from the competition.
List your portfolio samples, previous work, or links to external websites to demonstrate your capabilities.
Also, include relevant certifications, degrees, or training programs to build credibility and trust with potential clients.
C. Showcasing Skills and Expertise
Identify and emphasize your core skills and expertise to attract the right clients.
Select appropriate skills from Freelancer.com's extensive skill directory or manually add your own.
Highlight any niche specializations or unique capabilities that differentiate you from other freelancers.
Consider taking Freelancer.com's skill tests to validate and showcase your proficiency in specific areas.
Regularly update and refine your skills section to align with industry trends and evolving client demands.
D. Setting up Payment Methods and Preferences
Ensure seamless payment transactions by setting up your preferred payment methods.
Navigate to your account settings and choose a payment method like PayPal, Payoneer, or wire transfer.
Familiarize yourself with Freelancer.com's secure milestone payment system, which protects both freelancers and clients.
Establish clear payment terms and expectations with clients to avoid any misunderstandings or delays.
Regularly review and update your payment preferences to accommodate changes in your financial setup.
Now that you are aware of the crucial steps to beginning on Freelancer.com, you are well on your way to becoming a prosperous freelancer. By creating an account, building an enticing profile, showcasing your skills, and setting up seamless payment methods, you'll position yourself for exciting project opportunities and financial growth. Freelancer.com offers a dynamic platform where freelancers thrive, and clients discover exceptional talent. So, why wait? Join Freelancer.com today and unlock a world of freelance possibilities!
Exploring Job Opportunities
A. Navigating Job Categories and Listings:
When it comes to finding the perfect project, Freelancer.com offers a diverse range of job categories. From web development to graphic design, writing to marketing, and everything in between, you can explore a wealth of opportunities tailored to your skills. Navigate through the intuitive platform to discover the specific category that aligns with your expertise and interests. With thousands of live listings updated regularly, you'll find a constant stream of potential gigs to apply for.
B. Filtering and Searching for Relevant Projects:
Freelancer.com understands the importance of finding projects that match your skill set. To save you time and effort, the platform provides advanced filtering and searching options. Utilize filters such as project type, budget range, and project duration to narrow down the listings to those most relevant to your capabilities. Additionally, take advantage of the search bar to find specific keywords or terms related to the projects you excel in. This targeted approach ensures you focus on the opportunities that best suit your expertise.
C. Understanding Project Requirements and Scope:
Before submitting a bid, it's important to understand the project requirements and scope. Freelancer.com equips you with all the essential information you need to make an informed decision. Each job listing provides a detailed description, including the project goals, deliverables, and any specific skills or experience required. Take the time to carefully read and analyze the project details, ensuring you can meet the client's expectations and deliver exceptional results.
D. Submitting Proposals and Bidding on Projects:
Once you've identified a project that aligns with your skills, it's time to showcase your expertise through a compelling bid. Freelancer.com enables you to present your qualifications, previous work samples, and a personalized pitch to capture the client's attention. Create a persuasive bid that shows your understanding of the project requirements and highlights how your unique skills and experience make you the ideal freelancer. Additionally, Freelancer.com allows you to set competitive bids based on the project's budget, ensuring you maximize your chances of winning the project.
Freelancer.com opens up a world of opportunities for freelancers looking to excel in their careers. By navigating job categories, filtering relevant projects, understanding project requirements, and submitting captivating bids, you'll position yourself as a standout freelancer in the competitive freelance market. Don't miss out on the chance to skyrocket your earnings and showcase your talents to global clients. Start exploring Freelancer.com today and unlock your full potential as a successful freelancer.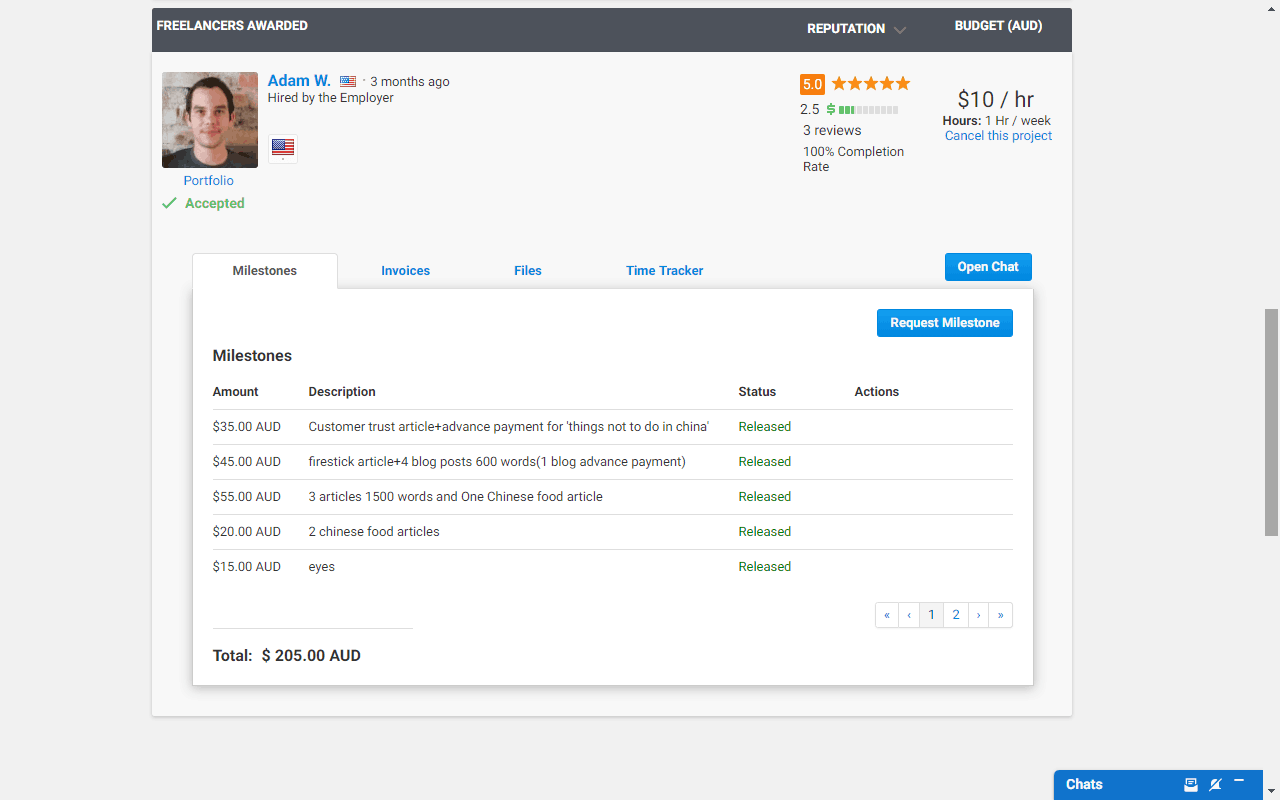 Credit: www.websiteplanet.com
How to work as a Freelancer?
A. Effective Communication for Seamless Collaboration
To establish a solid foundation with your clients, clear and concise communication is key. Promptly respond to inquiries and messages, ensuring a professional tone and addressing any concerns. Regularly update clients on project progress, milestones, and deliverables. Utilize project management tools and platforms to streamline communication and foster efficient collaboration. Effective communication enhances client satisfaction and minimizes misunderstandings, setting the stage for long-term partnerships.
B. Setting Project Milestones and Deadlines for Efficiency
Successfully managing freelance projects requires setting realistic milestones and deadlines. Break down the project into manageable phases, creating milestones that act as progress markers. Define clear deadlines for each milestone, ensuring you allocate sufficient time for revisions and unforeseen challenges. Utilize project management tools or specialized freelancer platforms to organize tasks, set reminders, and stay on top of deadlines. Meeting or even exceeding project milestones and deadlines enhances your professionalism and client trust.
C. Delivering High-Quality Work and Exceeding Expectations
Strive for excellence in every project you undertake. Immerse yourself in the client's requirements, understand their vision, and deliver work that exceeds expectations. Pay attention to detail, maintain consistency, and ensure the final product aligns with the client's brief. Incorporate your unique skills and expertise to add value to the deliverables. Engage in continuous learning and professional development to stay updated with industry trends and deliver high-quality work that impresses your clients.
D. Efficiently Managing Revisions and Feedback
Revisions and feedback are an integral part of the freelance process. Embrace feedback with an open mind, viewing it as an opportunity for growth and improvement. Actively listen to client feedback, clarify any ambiguities, and implement changes that align with the project objectives. Balance the client's requests with your professional judgment, offering suggestions and alternatives when necessary. Efficiently managing revisions and feedback showcases your adaptability and commitment to client satisfaction.
Managing Finances
With Freelancer.com's comprehensive payment system and robust financial management features, freelancers can confidently secure payments, protect their earnings, and maintain control over their finances. By leveraging milestone payments, the escrow system, payment protection policies, tracking earnings, managing invoices, and a range of convenient withdrawal options, Freelancer.com empowers freelancers to focus on their work without worrying about financial uncertainties.
A. Milestone Payments and Escrow System: Ensuring Confidence in Transactions
Freelancer.com provides a secure payment system that utilizes milestone payments and an escrow system. Clients and freelancers can agree on project milestones, dividing the work into manageable stages. As each milestone is completed, clients fund the corresponding amount into an escrow account, offering financial protection for both parties. By breaking projects into milestones, you can have peace of mind knowing you'll receive compensation for your work.
B. Freelancer.com's Payment Protection Policies: Safeguarding Your Earnings
Freelancer.com prioritizes the protection of freelancers' earnings through its payment protection policies. In the rare event of a dispute or non-payment, Freelancer.com offers a fair and transparent resolution process. They act as a mediator, ensuring freelancers' rights are upheld and providing a platform for effective communication and dispute resolution. With Freelancer.com, you can rest assured that your hard-earned money is protected.
C. Tracking Earnings and Managing Invoices: Gaining Financial Control
Freelancer.com empowers freelancers to stay on top of their finances by offering robust tracking and reporting tools. You can easily monitor your earnings, view detailed breakdowns of project payments, and analyze your financial performance. Additionally, Freelancer.com enables you to generate professional invoices for your clients, simplifying the billing process and ensuring accurate and timely payments.
D. Withdrawing Funds and Payment Options: Seamless Access to Your Earnings
Freelancer.com offers flexible withdrawal options, allowing you to access your earnings conveniently. Whether you prefer direct bank transfers, PayPal, Skrill, or other supported methods, Freelancer.com ensures hassle-free transactions. With quick and secure withdrawals, you can manage your finances efficiently and receive your hard-earned funds on your terms.
Building a Successful Profile
A. Crafting a Compelling Profile Bio and Headline
Importance of a captivating profile bio to grab attention
Incorporating relevant keywords to optimize search rankings
Showcasing your unique selling proposition (USP) in a concise and compelling manner
Crafting a memorable headline that reflects your expertise and specialization
Examples of impactful profile bios and headlines
B. Highlighting Relevant Skills and Experiences
Conducting keyword research to identify high-ranking skills in your niche
Emphasizing your core competencies and specialized skills
Highlighting certifications, degrees, or training programs related to your field
Showcasing previous work experiences and notable achievements
Using specific, quantifiable examples to demonstrate expertise
C. Showcasing Portfolio Samples and Previous Work
Creating a portfolio section to display your best work samples
Choosing a variety of projects that showcase your range and versatility
Including project descriptions and client testimonials for added credibility
Organizing your portfolio in a visually appealing and user-friendly manner
Incorporating relevant keywords in your portfolio descriptions
D. Gathering Positive Client Reviews and Ratings
Encouraging clients to leave reviews and ratings after project completion
Responding promptly and professionally to client feedback
Requesting testimonials and endorsements to add social proof to your profile
Displaying your overall rating and highlighting positive feedback
Leveraging positive reviews to enhance your reputation and attract new clients
By implementing these strategies and optimizing your freelancer profile with relevant keywords, you'll significantly increase your visibility and attract the attention of potential clients. Remember, a well-crafted profile acts as your digital business card and can be the deciding factor in winning projects over competitors.
Additional Features and Benefits
Freelancer.com goes beyond being a freelance platform by offering a range of additional features and benefits that elevate your freelancing career. From skill tests and certifications that boost your credibility to contest participation that showcases your talents, educational resources that fuel your growth, and networking opportunities that expand your connections, Freelancer.com provides a comprehensive ecosystem designed to support your success. Embrace these features and unlock your full potential in the freelance world.
A. Skill Tests and Certifications:
To stand out in a competitive freelance marketplace, it's crucial to showcase your skills and expertise. Freelancer.com offers a range of skill tests and certifications that allow you to validate your abilities in specific areas. By taking these tests and earning certifications, you not only gain credibility but also increase your chances of attracting high-quality clients. From programming languages to graphic design software, these tests cover a wide range of disciplines, allowing you to highlight your proficiency and expertise in your chosen field.
B. Contest Participation and Earning Potential:
Freelancer.com provides an exciting feature that allows you to participate in contests hosted by clients seeking innovative and creative solutions. Indulging in these contests not only gives you an opportunity to showcase your talents but also opens doors to potential long-term projects. By entering contests and presenting your unique ideas, you can demonstrate your creativity, stand out from the competition, and win lucrative projects. It's a chance to let your skills shine and unlock your earning potential.
C. Educational Resources and Professional Development:
Continual learning and professional development are vital in the rapidly evolving freelance landscape. Freelancer.com understands this need and offers a wealth of educational resources to help you stay ahead. Access to tutorials, webinars, and industry insights empowers you to expand your knowledge, learn new skills, and refine existing ones. Stay updated with the latest trends, technologies, and best practices through the platform's educational offerings, giving you a competitive edge and boosting your overall value as a freelancer.
D. Networking and Collaboration Opportunities:
Freelancer.com not only connects you with clients but also provides opportunities for networking and collaboration with fellow freelancers. Joining freelancer communities and engaging in discussions allows you to connect with like-minded professionals, share experiences, and exchange valuable insights. Collaborating with other freelancers not only expands your skillset but also enables you to take on more complex projects and deliver exceptional results. Building a strong professional network through Freelancer.com opens doors to new opportunities, referrals, and potential partnerships, paving the way for sustained success.
Membership Options
Basic Plan:
The Basic plan on Freelancer.com is priced at $4.99 per month and offers a range of valuable features. With this plan, you get 50 bids per month, allowing you to actively pursue new projects. You can showcase your expertise in up to 50 skills, enhancing your profile's visibility. Unlocking rewards incentivizes your progress and achievements. You can bookmark unlimited projects, keeping track of potential opportunities. Being eligible as a Preferred Freelancer increases your chances of landing premium projects. Additionally, you can personalize your profile with a custom cover photo. The plan also includes 3 free highlighted contest entries and 12 free sealed contest entries per month, enabling you to participate in exciting contests. Finally, you can follow up to 5 employers, enhancing your networking capabilities. Get started with the Basic plan on Freelancer.com to take your freelance career to new heights.
Plus Plan:
The Plus plan on Freelancer.com offers a range of exclusive features and benefits at a competitive price of $8.95 per month after a free one-month trial. With 100 bids per month and 80 skills to showcase your expertise, you have ample opportunities to secure projects. Engage with clients effectively, make daily withdrawal requests, and unlock rewards for your achievements. Enjoy unlimited project bookmarks and stand out with a custom cover photo. Additionally, you receive 5 free highlighted contest entries and 25 free sealed contest entries each month, enhancing your chances of winning lucrative projects. Gain visibility with 10 employer followings and invoice externally up to 5 times. The Plus plan also includes free project extensions and the opportunity to bid on high-value projects. Upgrade to the Plus plan and maximize your earning potential on Freelancer.com.
Professional Plan:
The Professional plan on Freelancer.com offers an extensive range of features and benefits for freelancers looking to take their career to new heights. Priced at $49.00 per month, this plan includes 300 bids per month, allowing you to actively pursue a variety of projects. With 100 skills at your disposal, you can showcase your expertise in multiple areas. Enjoy client engagement tools, bid insights, and daily withdrawal requests for seamless project management. As a Professional member, you unlock rewards and gain access to unlimited project bookmarks. Additionally, you become eligible for Preferred Freelancer status, enjoy customization options like a custom cover photo, and receive 15 free highlighted contest entries and 75 free sealed contest entries per month. With premium insights and high-value project bidding opportunities, the Professional plan empowers you to excel in your freelancing journey. Get started today and make the most of these exclusive offerings.
Premier Plan:
The Premier plan on Freelancer.com offers a comprehensive package for freelancers looking to take their career to new heights. Priced at $99.00 per month, this plan provides numerous benefits and features. With 1500 bids per month and access to 400 skills, freelancers can secure more projects and expand their client base. The plan also includes client engagement tools, bid insights, and daily withdrawal requests for seamless transactions. Unlocking rewards, unlimited project bookmarks, and preferred freelancer eligibility further enhance the freelancing experience. Additionally, high-value project bidding, free NDA projects, and premium freelancer insights offer exclusive opportunities. Join the Premier plan and unlock your full potential as a freelancer on Freelancer.com.
Pros ✅
The vast range of job opportunities for freelancers.
The accessible platform for global clients and freelancers to connect.
Provides a secure milestone payment system.
Offers a variety of project categories to choose from.
Allows freelancers to build a portfolio and gather client reviews.

Cons ❌
High competition for projects, making it challenging to secure bids.
The platform charges fees on project earnings.
Quality control can vary due to the wide range of freelancers.
Customer support response times may vary.
Payment disputes can occur, requiring a resolution process.
Conclusion
Freelancer.com stands out as a top-tier freelance platform that offers a multitude of benefits for both freelancers and clients. With its user-friendly interface, a diverse range of job categories, and efficient project management tools, Freelancer.com provides a seamless experience for finding and completing freelance work. Its extensive global network ensures a steady stream of job opportunities, allowing freelancers to showcase their skills, earn competitive rates, and build successful careers. So, why wait? Take the leap, create your Freelancer.com account, and embark on a rewarding freelance journey today.
Frequently Asked Questions
A. Common queries about Freelancer.com answered:
How does Freelancer.com work?
Freelancer.com is an online platform that connects freelancers with clients seeking their services. Clients post projects, and freelancers submit bids to win those projects based on their skills and expertise.
Is Freelancer.com a legitimate platform?
Yes, Freelancer.com is a legitimate and reputable freelance platform with millions of users worldwide. It provides opportunities for freelancers to find work and clients to access a pool of talented professionals.
Can I trust the clients or freelancers on Freelancer.com?
While Freelancer.com strives to maintain a secure and trustworthy environment, it's essential to exercise due diligence when choosing clients or freelancers. Check their profiles, reviews, and ratings to make informed decisions.
What are the benefits of using Freelancer.com over other platforms?
Freelancer.com offers a vast range of job opportunities, a user-friendly interface, and a global community of freelancers and clients. It also provides tools for collaboration, secure payment systems, and dispute resolution processes.
How can I maximize my chances of winning bids and securing projects?
To increase your chances of winning bids on Freelancer.com, optimize your profile, showcase your skills and experience, submit tailored proposals, and provide competitive pricing. Building a strong portfolio and earning positive client reviews can also enhance your credibility.
B. Addressing concerns about payment security and dispute resolution:
How does Freelancer.com ensure payment security for freelancers?
Freelancer.com employs an escrow system where clients deposit funds into milestones. Once the freelancer completes the agreed-upon work, they can request the release of the funds, ensuring payment security.
What is the milestone payment system, and how does it work?
The milestone payment system on Freelancer.com allows clients to divide projects into manageable stages or milestones. Funds are released to freelancers upon completion and approval of each milestone.
How can freelancers protect themselves from payment disputes?
To protect themselves, freelancers should clearly define project deliverables, maintain open communication with clients, and provide regular updates. Additionally, using the milestone payment system can help mitigate payment disputes.
What steps are taken to resolve payment disputes on Freelancer.com?
Freelancer.com offers a dispute resolution process where freelancers and clients can present their cases. The platform's support team reviews the evidence provided and facilitates a fair resolution between the parties involved.
Are there any measures in place to prevent scams or fraudulent activities?
Freelancer.com employs various security measures, including identity verification, fraud detection algorithms, and a feedback system for clients and freelancers to share their experiences. However, it's crucial to remain vigilant and report any suspicious activity.
C. Explaining the customer support and assistance available:
What support channels are available on Freelancer.com?
Freelancer.com provides customer support through email, live chat, and a comprehensive Help Center with frequently asked questions and guides.
How responsive is the customer support team?
The customer support team aims to respond to queries and issues promptly. Response times may vary depending on the volume of inquiries, but Freelancer.com strives to provide timely assistance.
What types of issues can be addressed by customer support?
Customer support can assist with various issues, including account-related queries, payment concerns, technical difficulties, and disputes between freelancers and clients.
Is there a knowledge base or FAQ section for self-help?
Yes, Freelancer.com offers a robust Help Center with a knowledge base and an extensive FAQ section. Users can access valuable resources and find answers to common questions.
Are there any additional resources or tools provided to freelancers for assistance? Freelancer.com offers additional resources such as skill tests, educational materials, and a community forum where freelancers can seek advice, share knowledge, and network with fellow professionals.